"500+ Best Licks - Intuitive Guitar" with Lifetime Updates for Windows/macOS/Linux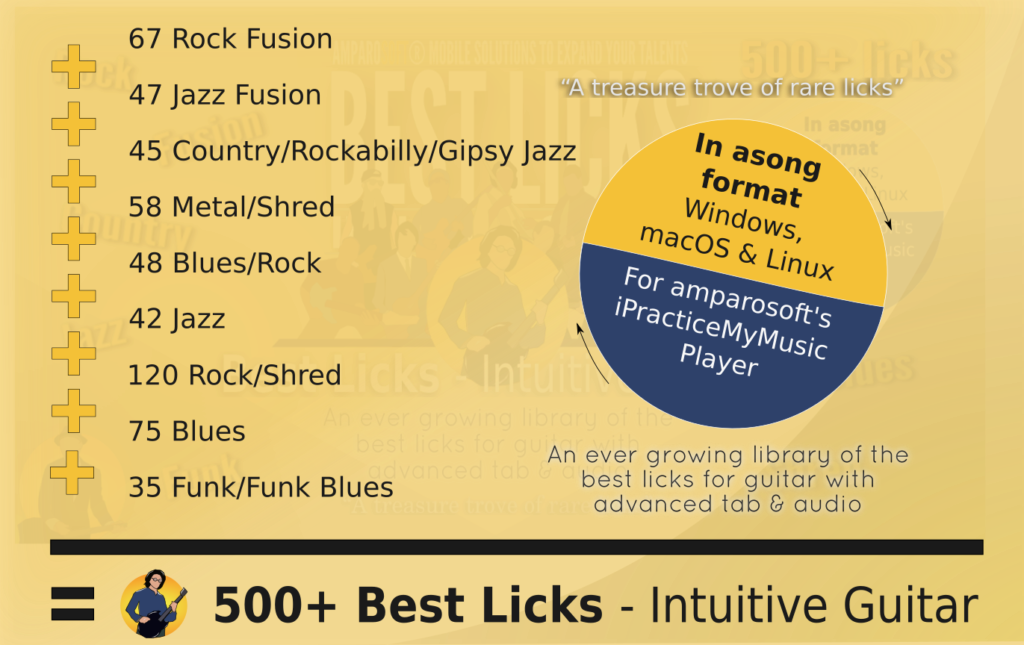 Want inspiration? Looking for an ever expanding guitar lick library of rare and exciting licks covering many different styles, techniques, music genres, and guitarists?
Best Licks - Intuitive Guitar Series is what you're looking for. A never ending source for inspiration. These challenging and precise tabs in asong format will for certain improve your guitar playing, providing you with a sophisticated library of licks and innovative standalone tools to help you build your own style. Discover amazing and underrated guitar players all over the world.
Features:
Hundreds (500+) of exciting guitar licks in the style of amazing guitarists and in many styles of music ranging from Blues, Rock, Fusion, Metal, Country, Funk, Jazz, Shred, and more
Lifetime updates. Buy once and get all the new added licks in this series for free
It includes Amparosoft's iPracticeMyMusic Player for asong files with
Advanced tab section with speed, equalizer, tonality controls, loops, and speed trainer
Video and animations in sync with the tab
No need for external software, just our player
Requirements:
amparosoft's iPracticeMyMusic Player for Windows, macOS & Linux OSs (included in the package)
Windows 8.1 or above

macOS 10.12 or above

Linux 64 bits
5 GB disk space

Buy 500+ Best Licks now
Use coupon BESTLICKS at checkout and save 51USD
Best Licks Packages
More Products