New App: Intuitive Guitar - Best Licks
Just released:  "Intuitive Guitar - Best Licks"

An ever growing library of the best licks for guitar with advanced tab & audio
Want inspiration? Looking for an ever expanding guitar lick library of rare and exciting licks covering many different styles, techniques, music genres, and guitarists?
Intuitive Guitar - Best Licks is what you're are looking for. A never ending source for inspiration. These challenging and precise tabs will for certain improve your guitar playing, providing you with a sophisticated library of licks to help you build your own style. Discover amazing and underrated guitar players all over the world.
Be an all rounded player, learn licks from almost any style like Jazz, Rock, Fusion, Shred, Metal, Country, Funk, Blues and more.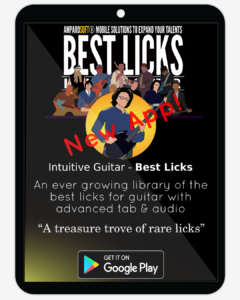 Supported by ads providing you with great and ever growing content for free. Additional support is welcomed in the form of subscriptions to support the development of the app and additional licks.
Features:
Several exciting guitar licks for free and more will be added every week
Many styles of music ranging from Blues, Rock, Fusion, Metal, Country, Funk, Jazz, Shred, and more
Advanced tab section with loop, speed, equalizer and tonality control
Several licks in the style of many amazing guitarists
Each lick has its own video (in our youtube channel)
Subscribers get the chance of suggesting new licks and supporting the app's growth
What our users think:
"A treasure trove or rare licks"
"This is such a great service for guitarists everywhere! Great job!"
"You should get an award for transcribing all these licks! Thanks a lot. Keep it up!"
"One of the most underrated guitarists around. Also awesome job transcribing that Per madness :D"
We think that in today's digital world privacy is of the utmost importance. You can read the complete policy here: http://www.amparosoft.com/privacy
NOTE: If you run into any issues, have questions or suggestions, please email us to amparosoft@gmail.com
All content is property of AmparoSoft
All music is composed and played by Otto Reina
Disclaimer:
We don't sell licks or tabs. The app is monetized with ads to support its development, the hosting needed to download the licks, and the effort required to make our audios and tabs. Payment is available for generous supporting fans who don't like ads and/or want to see the app grow in quality and number of licks.
We help promote amazing guitar players that are unknown and/or underrated and in this manner providing chances for their own market share to grow. If you still feel that we are violating your copyright, and you are the rightful owner please contact us.
Get it here: